Aug 11, 2020
When it comes to this narrative about meat, there are three elements that tend to get thrown out there: meat is damaging to our health, it's unethical to eat meat, and meat is injurious to the environment. There are truths and falsehoods to each one of those ideas but once you look closer at the health and environmental parts then the ethical consideration of meat starts getting interesting. It looks like we have a singular tool that could both feed humanity and potentially protect or save us from climate change. - Robb Wolf
Get 15% off your CURED Nutrition order with the code WELLNESSFORCE
---> Get The Morning 21 System: A simple and powerful 21 minute system designed to give you more energy to let go of old weight and live life well.
JOIN THE FACEBOOK GROUP | *REVIEW THE PODCAST*
Wellness Force Radio Episode 357
What do you eat for optimal human and planetary health?
Join Robb and Josh as they explore the quandaries we face in raising and eating animals—focusing on the largest (and most maligned) of farmed animals, the cow.
---
Sacred Cow
CLICK HERE to get your own copy of
Sacred Cow: The Case for (Better) Meat
We're told that if we care about our health—or our planet—eliminating red meat from our diets is crucial. That beef is bad for us and cattle farming is horrible for the environment. But science says otherwise. Beef is framed as the most environmentally destructive and least healthy of meats. We're often told that the only solution is to reduce or quit red meat entirely. But despite what anti-meat groups, vegan celebrities, and some health experts say, plant-based agriculture is far from a perfect solution.
In Sacred Cow, registered dietitian Diana Rodgers and former research biochemist and New York Times bestselling author Robb Wolf explore this topic in greater depth.
Takeaways from Sacred Cow: A Case for (Better) Meat
Taking a critical look at the assumptions and misinformation about meat, Sacred Cow points out the flaws in our current food system and in the proposed "solutions." Inside, Rodgers and Wolf reveal contrarian but science-based findings, such as:
Meat and animal fat are essential for our bodies.

A sustainable food system cannot exist without animals.

A vegan diet may destroy more life than sustainable cattle farming.

Regenerative cattle ranching is one of our best tools at mitigating climate change. You'll also find practical guidance on how to support sustainable farms and a 30-day challenge to help you transition to a healthful and conscientious diet.
With scientific rigor, deep compassion, and wit, Rodgers and Wolf argue unequivocally that meat (done right) should have a place on the table. It's not the cow, it's the how!
WIN 1 of 5 copies! Leave us a podcast review by heading over to wellnessforce.com/review or just leave a review for us on your Apple podcasts app, mention Robb's book, Sacred Cow, and we will contact you to get your address and send you the book!
Listen To Episode 357 As Robb Wolf
Uncovers:
[1:30] Sacred Cow's Message To The World
[15:30] Unintended Consequences Of Changing Nature's Cycle
[25:30] How COVID-19 Has Impacted The Meat Industry
[35:30] Navigating The Info Wars Of 2020
Unpacking the side of economics that leads us on a dark road with

regenerative agriculture

taking over the market competition.

How government decisions at the local, municipal level in European countries differ dramatically from the American system.

The

culture war

we see occurring on social media with one person's ideas pinned up against another's.

Robb's insights on how we can navigate the Info Wars of 2020 on social media and in the mass media to come to the real truth of what is going on with

meat consumption

and the agriculture industry.

Sacred Cow's action plan in the face of a

pandemic

which was published long before COVID-19.

The three talking points surrounding meat in our modern world: Meat is damaging to our health, it's unethical to eat meat, and meat harms our environment.

Why they consider it child abuse in Europe to give babies or children a

vegan diet

as it is recognized as dangerous for developmental milestones.
[44:30] How Grazing Animals Can Reverse Climate Change
[51:00] How To Make Healthy Food More Affordable & Decrease Healthcare Costs
[59:30] What Lessons We Can All Learn From Sacred Cow
Exploring how people can apply the teachings of Sacred Cow to their own lives.

What choices families can make to get the most out of the

nutrition

their meals provide.

The high standards that elitists are making and spreading about nutrition like "Eat

organic

and grass-fed food or avoid it all costs" when we should be avoiding that kind of mentality.

Going over the fact that

conventional meat

still actually has a lot of great nutrients in it when we compare it to grass-fed meat.

The hard truth that the only place in the world where grain-fed meat is cheaper than grass-fed meat is the United States of America.

Diving into the facts and myths about the amount of grain and water needed to farm

cattle

.

Different categories of water sources and how much we actually use to farm local cattle vs American grown almonds that we export from California.
[1:08:30] How Regenerative Farming Can Change The World
How regenerative farming is economically very savvy as it allows

farmers

to grow more grass and thus more animals.

The trends we are seeing in meat processing plants and the focus on

decentralization

and regenerative farming.

Why it's so important to fire people up about regenerative farming and eating organically in order for us to see greater change throughout the country.

Breaking down how Medi-Share

insurance plans

are so different and better for us than the traditional insurance model we've been following for decades.

Why it appears that we've really lost the ability to listen to one another and new, different ideas.

His concerns but also what he's most excited about when he looks at the future of life and greater health for the world.
Power Quotes From The Show
Meat's Great Potential To Help The Planet
"Once you understand that it's going to be very difficult to properly feed humans without animal inputs and once you appreciate the potential that properly raised grazing animals have to reverse climate change, expand our grasslands, and backpedal desertification, not only could we produce a lot of food but we can produce an even greater amount as we reclaim areas that have been turned into deserts." - Robb Wolf
Should I Only Eat Grass-Fed Meat?
"On the organic food front, some people would say, 'Well, if you can't afford to eat organic, grass-finished meat then don't eat meat at all.' That's a pretty elitist position to take. Imagine a family of four that's trying to pull themselves up by their bootstraps and the parents know how critical nutrition is for their children's health. Conventionally-raised meat is going to be far more beneficial than any plant material that you could feed those kids. At some point, you can't put more grapes, bananas, or sweet potatoes down a person without getting nutrient deficiencies relative to just giving them some good, quality meat. Even conventionally-raised meat spends 70% of its life on grass and it's pretty much as nutrient-dense as grass-fed meat." - Robb Wolf
Moving Forward With Regenerative Farming
"If we can wrap our heads around the need for an agriculture system that looks more like a natural ecology, then we're moving in a good direction. If we can look at a piece of land holistically and see how we can change it to improve the lives of other animals that live there such as birds, then it's going to be good for farms. When we create regenerative farms, we will see habitat restoration, improve the carbon capture of the soil, improve the water retention of the soil, extend the soil microbiome levels beneath the ground, and produce nutrient-rich food that could go on basically indefinitely for the planet. That is the opportunity that we have with regenerative farming." - Robb Wolf
Links From Today's Show
About Robb Wolf
Robb Wolf, a former research biochemist is the 2X New York Times/WSJ Best Selling author of The Paleo Solution and Wired To Eat. Robb has transformed the lives of hundreds of thousands of people around the world via his top ranked iTunes podcast, books and seminars.
Robb has functioned as a review editor for the Journal of Nutrition and Metabolism (Biomed Central) and as a consultant for the Naval Special Warfare Resiliency program. He serves on the board of Directors/Advisors for: Specialty Health Inc, The Chickasaw Nation's "Unconquered Life" initiative and a number of innovative start ups with a focus on health and sustainability.
Robb holds a purple belt in Brazilian Jiu-jitsu and is a former California State Powerlifting Champion (565 lb. Squat, 345 lb. Bench, 565 lb. Dead Lift) and a 6-0 amateur kickboxer. Wolf has provided seminars in nutrition and strength & conditioning to a number of entities including NASA, Naval Special Warfare, the Canadian Light Infantry and the United States Marine Corps.
Robb lives in Texas with his wife Nicki and daughters Zoe and Sagan.
---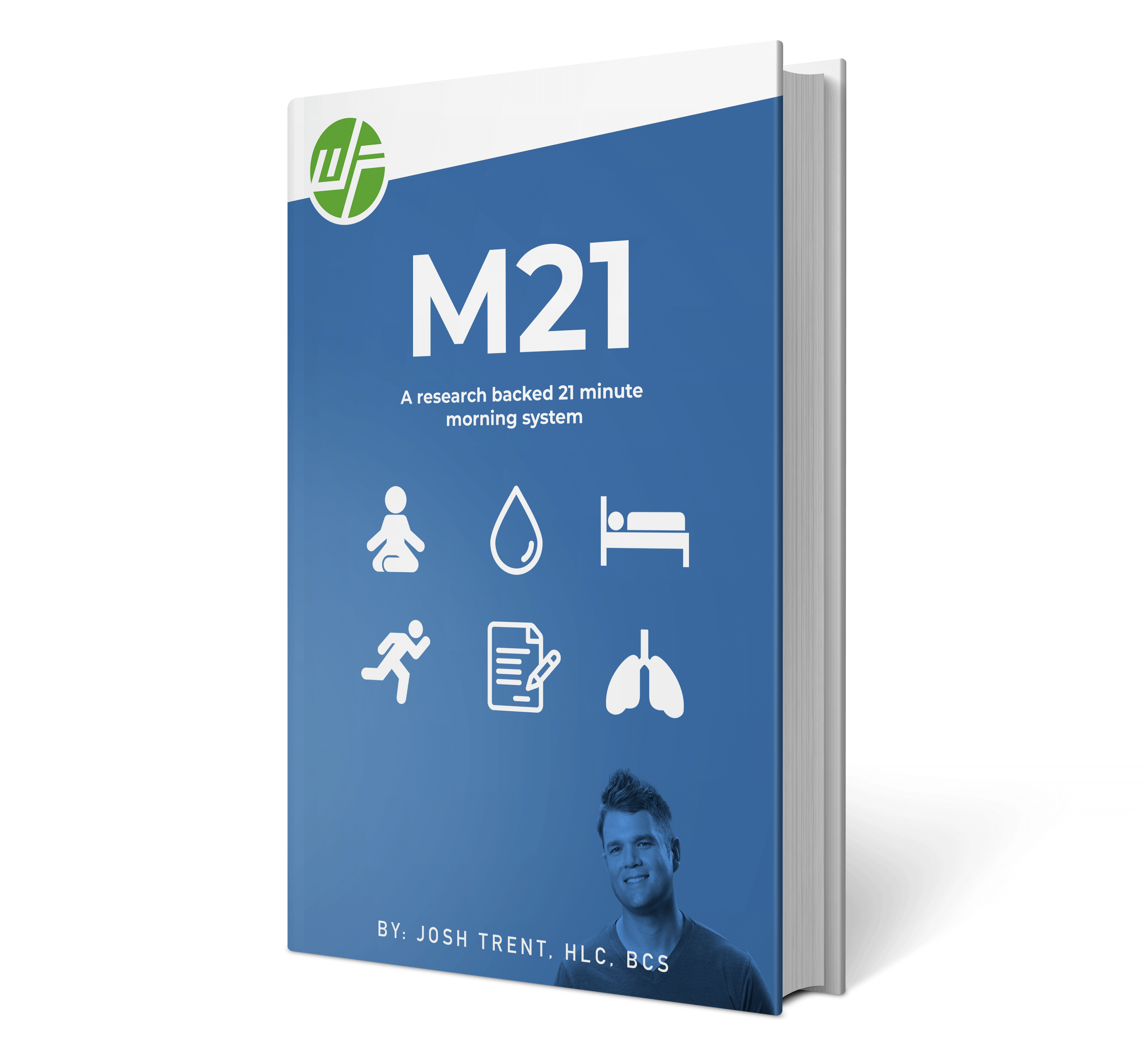 Build Immunity. Breathe Deeply.
A simple, powerful 21 minute morning system designed to give you more energy to let go of old weight and live life well.
Get Your Calm Mind + Immunity Building Guide
*6 science based morning practices guaranteed to give you more energy and less weight in 21 Minutes.
*7 day guided B.R.E.A.T.H.E breathwork included.
---
CURED Nutrition
Get 15% off your CURED Nutrition order with the code WELLNESSFORCE
It's taken me over a year to find the right hemp and CBD company to introduce to the Wellness Force Community and I could not be more thrilled that it's CURED Nutrition!
CURED Nutrition is a movement inspired by nature and grounded in a shared desire to leave a lasting impression on you, our community, and this world. Together, they're a collective of heart-centered human beings who are inviting you – the conscious creatives, dreamers, and healers – to join their family. Learn how CURED hemp and CBD products can enhance your daily wellness routine.
Try Cured Today
They're Colorado-based organically grown hemp products that have been engineered to transform your approach toward an elevated life. Tap into your inherent potential – your greatest mind-body alignment – and nourish it with the supplements you were designed to thrive on. A greater existence is waiting.