Dec 1, 2020
"Soulmates are a problematic concept. You have to lower your expectations a little bit because society has given us all these expectations of what the perfect partner is like which are impossible for anyone to meet. It's better to find someone that you can both grow into soulmates over time and look at them from that perspective. Search for someone that you can finally be yourself around without any fear, retribution, or shame. Someone who celebrates who you are is going to want to be with you and you're going to want to be with them." - Roger Nygard

Get 15% off your CURED Nutrition order with the code WELLNESSFORCE
---> Get The Morning 21 System: A simple and powerful 21 minute system designed to give you more energy to let go of old weight and live life well.
JOIN THE FACEBOOK GROUP | *REVIEW THE PODCAST*


Wellness Force Radio Episode 374
Film director and producer of several productions including the documentary, The Truth About Marriage, Roger Nygard, shares what makes relationships work, how to increase your chances of finding a soulmate, why polyamory is sacred for some couples, how and when to have difficult conversations plus the concept of The Gottman Institute's Four Horsemen and ultimate relationship deal-breakers.
Join us as Roger shares the best tools to help keep your relationship alive, how to handle conflict better, and the No. 1 piece of relationship advice.
---
CURED Nutrition
Get 15% off your CURED Nutrition order with the code WELLNESSFORCE
It's taken me over a year to find the right hemp and CBD company to introduce to the Wellness Force Community and I could not be more thrilled that it's CURED Nutrition!
CURED Nutrition is a movement inspired by nature and grounded in a shared desire to leave a lasting impression on you, our community, and this world. Together, they're a collective of heart-centered human beings who are inviting you – the conscious creatives, dreamers, and healers – to join their family. Learn how CURED hemp and CBD products can enhance your daily wellness routine.
Try Cured Today
They're Colorado-based organically grown hemp products that have been engineered to transform your approach toward an elevated life. Tap into your inherent potential – your greatest mind-body alignment – and nourish it with the supplements you were designed to thrive on. A greater existence is waiting.
Listen To Episode 374 As Roger Nygard
Uncovers:
[1:30] The Secret To Happiness
Exploring what it means to be with someone emotionally, physically, and spiritually.

The quest for finding our

soulmate

and the journey it leads us on.

When his curiosity for the truth about

marriage

and finding a soulmate started.

Why the first few years of our life are crucial in our

personal development

but that doesn't have to mean we're held back from making choices later on in life.

Unpacking the number one secret for happiness in

relationships

: Accepting who and what you are and doing the same for your

partner

.

Why so many people in relationships become frustrated because they cannot reach

expectations

and ideals that we,

society

, our parents, and even our friends have set for ourselves.

How the human species has become out of sync with who we are at our core.

Exploring the positive experiences that happened during his

childhood

that have impacted his filmography career.

Unpacking what the key to success actually is and what it isn't.
[15:30] Why Are Relationships So Difficult?
Why

happiness

is a side effect of having a purpose in life, not a goal.

Unpacking the science behind why we're the happiest when we're in the

present moment

.

How expressing ourselves creatively every day will build upon our joy.

Why the obstacles we find in relationships really aren't our fault.

Examples of what we can do right now to change and make our relationships stronger.

Why we, especially men, are such horrible listeners.

The fact that sometimes our partners don't want us to give them solutions, they just want us to listen to what they're going through and be

supportive

.

Why the masculine brain is wired to only handle 30 minutes per day of an emotional conversation before "flooding" or feelings of overwhelm happen.

How men can recharge their batteries with quality alone time and then

reconnect

with their partner.
[26:30] How To Attract A Mate
Why he chose to have Neil Strauss be a key part of his movie, The Truth About Marriage.

The fact that we never stop

growing

and maturing.

Why humans will always be complex creatures and there will always be something new to learn about our partner.

How he chose the

couples

and singles for his documentary in order to really show the lesson he wanted to teach.

What has changed in the lives of the people he interviewed including Don Blanquito who went from being very single to getting

married

and having a child.

Which gems Josh has taken from The Truth About Marriage and applied to his own relationship.

How you can

communicate

better in your relationships and stop trying to be a mind reader.

Why premarital counseling is an excellent form of

therapy

to increase your relationship's happiness and longevity.

The guideline, Personal Priorities Checklist, that he includes in the back of his book for you to go through with your partner to get to a mutual

priorities

checklist.
[34:30] Why Relationships Fail
[43:30] Can A Polyamorous Relationship Work?
Why it's so important to be open with your partner about your needs in the relationship.

The devastating impact of being in a relationship where the other person makes you feel

ashamed

of yourself.

What he's learned from spending time with a

polyamorous couple

during the making of

The Truth About Marriage.

Why the polyamorous couple in his film was so successful with each other because they were 100% open with one another.

Exploring why everything we do is in the name of either

love

or fear.

Why Josh feels triggered by the idea of a polyamorous relationship after his past experiences and not being able to accept and forgive the mistakes he has made.

What Roger's views on

polygamy

and polyamorous relationships are now after the filming of the movie compared to before.

The sacred respect that does exist for people in a polyamorous relationship.

What the practice of "capitalization" is in a relationship and how you can use it to

support

your partner.
[50:30] Do You Value Your Partner Enough?
Breaking down the unintended consequences of

technology

striving forward in the name of progress.

Why one of the Gottman's Horsemen, Contempt, is such a deal-breaker for many relationships.

How to get out of your Contempt rut by actively participating in the relationship in a positive way and valuing what your partner has to say or offer.

The history of

marriage

and why it was based on other reasons such as survival, transaction, or resources until 160 years ago.

Why the Disney fairytale relationship is the absolute bullshit story.

Unpacking what real love even is including both Roger's and Josh's definitions of it.

The power of valuing your partner's different strengths rather than criticizing them for their weaknesses.
[55:30] How To Have A Difficult Conversation & Handle Conflict Better
Why men hate being ambushed about things their partner wants to discuss with them and it's better to schedule important

conversations

.

The importance of removing the word, "should," from your

vocabulary

when speaking with your partner.

How to end every

conflict

to make the conversation so much better for both of you.

The immediate downfall in conversation when someone says, "You always do this."

Why you should choose "I" over "you" and talk about your

feelings

rather than putting the other person down.

Why there will almost always be someone in a relationship who is more logical and the other more

emotional

.

Exploring the value in simply just acknowledging that your partner is hurting and offering how to help them.
[1:06:30] How To Keep Your Relationship Alive
Tools that we can use to help reset our

nervous system

and get into these states of clarity.

The importance of honoring active

intention

in your relationship now and in the future so that it doesn't deteriorate.

Why it can be so scary to show who you truly are in a relationship especially if you lack

self-love

.

His take on

couples therapy

and why he believes it should be mandatory for everybody from Day 1 of a relationship.

What work you can do to increase your chances of finding your soulmate.

Why it's so important to be 100% yourself around your partner.

Examples of

inner work

that you can do to reveal to yourself who you are at your core.

Why you have to know what it is that you want before you actually begin doing the inner work.

The #1

relationship advice

you should be following in 2020: Ban criticism and don't focus on "fixing" your relationship until we get back to normal because we're not seeing things in a normal way while in lockdown.
Power Quotes From The Show
The No. 1 Relationship Deal -Breaker
"The Gottmans are able to predict with 90% accuracy whether or not couples will stay together and how happy they will be just after watching them for five minutes based primarily on one thing they're looking for: the existence of contempt from either partner because that shows that you're not a team. Contempt is such a deal-breaker because if your partner doesn't value you or your opinion then you don't feel like you or the relationship are valued. You start to feel like an object or that the relationship is transactional; you're not in it together. It's the togetherness that leads couples to last and seeing themselves as a unit or a duo." - Roger Nygard
Why Are You Really In This Relationship?
"You need to get out of the contempt rut and be actively participating in the relationship in a positive way and valuing what your partner has to say or offer. If you don't value that person, why are you partners with them? That's the existential question of relationships. What are you getting out of the deal? A lot of people are together transactionally; they're in it for other reasons than for valuing each other as a human: money, resources, staying alive. That's what most of human history was. This idea of getting married for love is only 160 years old." - Roger Nygard
Why Do Religious Couples Actually Last?
"One of the things that all experts agree on is that if you're someone who is thinking of getting married right now, the best thing you can do to increase your chances for longevity and happiness in a relationship is premarital counseling to enter the relationship with a better understanding of the rules of the game. Most people don't do this and experts have found that religious couples tend to do better than non-religious couples in marriage. It's not because they're religious; it's because they're forced to do premarital counseling by their religion so they get a better understanding of each other. Do you know everything about your partner? You'll never know everything but you should know some basic things especially the core values that you both hold." - Roger Nygard
Links From Today's Show
About Roger Nygard
"
The Truth About Marriage
" tracks down the experts and discovers surprising scientific facts behind what makes happy relationships work, and what we can do to increase our chances of finding a soulmate.
Roger Nygard
is perhaps best known for his acclaimed documentary
Trekkies
, about the most obsessive fans in the Universe. Nygard's previous documentary,
The Nature of Existence
, addressed the impossible subject of the world's philosophies, religions, and belief systems. Nygard has also directed
television series
such as "The Office" and "The Bernie Mac Show." His work as a film editor includes "Grey's Anatomy," "The League," and Emmy-nominated episodes of "Who Is America?" and "VEEP" and "Curb Your Enthusiasm." Nygard has made several other award-winning films, including the car-salesman cult-film,
Suckers
, and a a profile of UFO fanatics,
Six Days in Roswell
, and now the documentary
The Truth About Marriage
, accompanied by
The Truth About Marriage
book
. Currently he is co-producing and editing
"The Comedy Store,"
a documentary about the comedians who came though this world-famous LA club.
---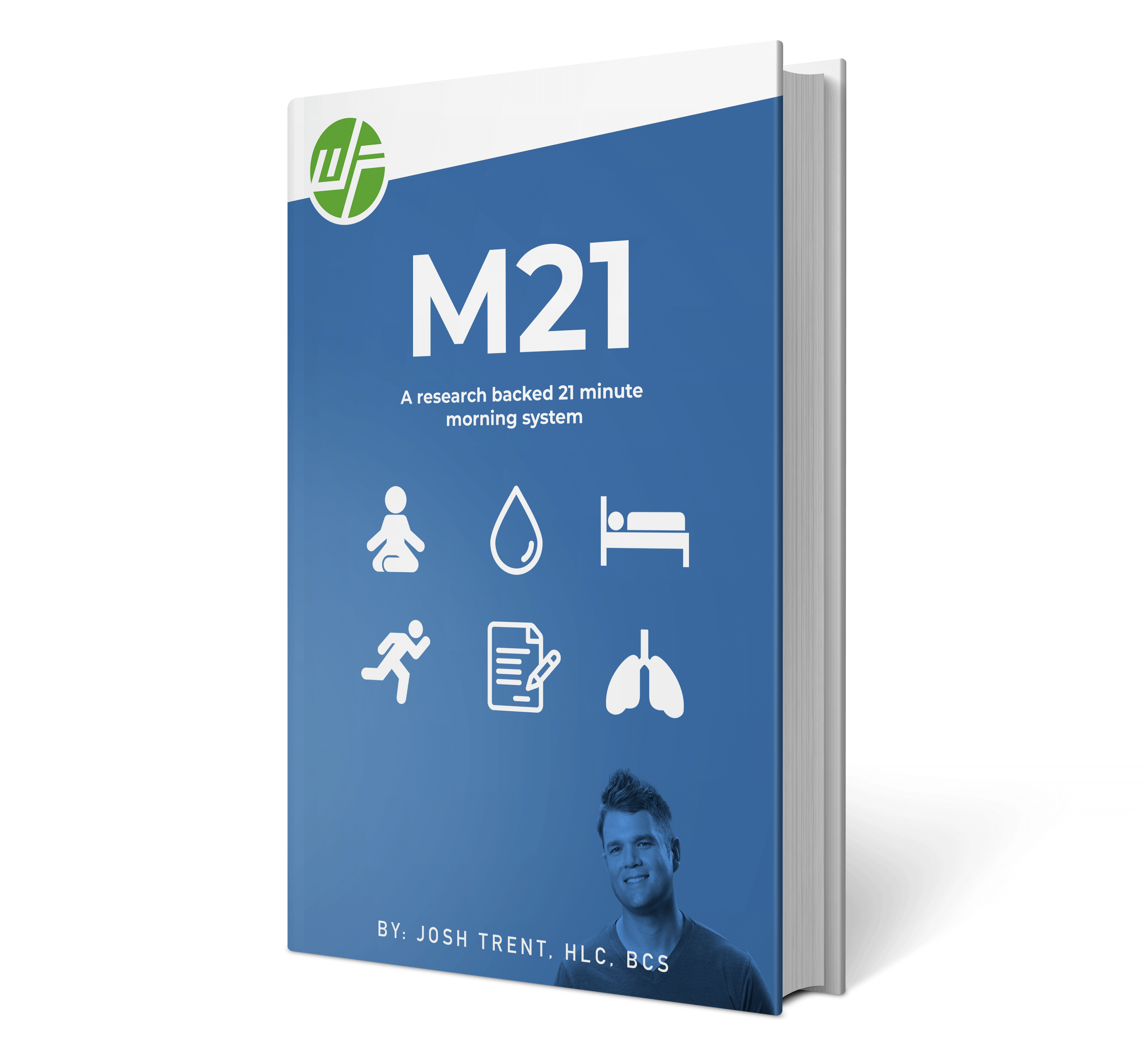 Build Immunity. Breathe Deeply.
A simple, powerful 21 minute morning system designed to give you more energy to let go of old weight and live life well.
Get Your Calm Mind + Immunity Building Guide
*6 science based morning practices guaranteed to give you more energy and less weight in 21 Minutes.
*7 day guided B.R.E.A.T.H.E breathwork included.
---