Apr 13, 2021
Who you are always wins. Face who you are now because the pain of not doing that is what causes so much anxiety later on. The sooner you face the truth, which can be sad and inconvenient at times, the less anxious you will feel. - Ashley Stahl
Get 15% off your CURED Nutrition order with the code WELLNESSFORCE
---> Get The Morning 21 System: A simple and powerful 21 minute system designed to give you more energy to let go of old weight and live life well.
JOIN THE FACEBOOK GROUP | *REVIEW THE PODCAST*


Wellness Force Radio Episode 392
Learn how to get unstuck and discover a career path that aligns with who you are at your core.
---
Belcampo Farms
Get 20% off of your first Belcampo order with the code WELLNESSFORCE
Belcampo was founded with a purpose: to create meat that's good for people, planet and animals.
What started as one mom's desire to feed her family the healthiest meat possible became a mission to revolutionize the industry from the inside out. Belcampo is the pioneer of hyper-sustainable, organic, grass-fed and -finished, Certified Humane meats, broths, and jerkies. The company is on a mission to revolutionize the meat industry for the well-being of people, the planet, and animals by farming meat the right way – with Certified Humane, regenerative, and climate-positive practices, which means it's better for you, the planet and the animals.
Conventionally raised animals are confined to feedlots and eat a diet of inflammatory grains, but Belcampo's animals graze on open pastures and seasonal grasses resulting in meat that is higher in nutrients and healthy fats.
Listen To Episode 392 As Ashley Stahl
Uncovers:
[1:30] Transformation 101: Who Are You Really?
Ashley's own shift in careers from working in national security to becoming a

career coach

.

How she helps people really figure out who they are and bring that into their

career path

.

The day a phone call impacted Ashley, her family, and how she now sees the world.

How

fear

and limitation can "kidnap" people from having a life that they really want.

Exploring the question, "What do you know that you wish you didn't know?"

Why it's so important to ask yourself, "What am I hiding from myself?" in order to help you

change

.
[14:30] Are You Your Own Kidnapper?
Unpacking how we can be our own kidnappers.

The list she made of how she has been her own kidnapper throughout her life like staying in a

job

for too long.

Why living in itself is such an achievement.

How you can hold

compassion

for yourself and others if you are holding yourself

hostage

.

Why making changes in your life doesn't have to be so big or dramatic to live a different reality.

What holds people back the most from the

freedom

they desire.

How to get on the path of clarity though

engagement

rather than thought.

Exploring the dynamic between the fear of the unknown and

misery

in a current situation.

Negative beliefs

that are passed on from one generation to the next and how she addresses this in her work.

Why your career is actually about healing, confidence, and your

mindset

.
[20:30] Switching The Script On Money, Success & Career
[26:00] You Are Worthy Of Greater Wellness
The question to ask yourself if you are feeling

burnt out

from work, "Why don't I feel worthy of wellness?"

Why it's so important to open up a dialogue with your boss or manager about your stress, wellness, and setting

healthy work boundaries

.

Her own fear of canceling things no matter how sick she felt or how much someone else such as a parent needed her that day.

The power of giving yourself

permission

to be worthy of spaciousness when your body and soul.

Why she sees being burnt out as a worthiness issue that we all can work on to help ourselves

heal

.

The biggest beliefs she had going on in her mind when she explored how she has been her own kidnapper.

Unpacking her

core belief

, "Life is rigged in your favor and as long you're living like it's not, it's not going to work with you."

How to build and grow your

wellness tribe

in favor of the direction you want your life to go in.
[31:30] The Power Of Your Intuition
The different

mindsets

that Millennials have compared to other generations such as Gen X due to the amount of

technology

they use.

Why she knew lockdown was bound to happen the moment COVID-19 began spreading back in February 2020 because of her

intuition

and past work experience.

How intuition works and why it's absolute, not emotional.

Her take on

instinct

compared to intuition.

What steps you can take to make a 'You Turn' and come back home to yourself.

Why people can play such an important role in helping us feel like ourselves again.
[40:30] Finding Your Zone Of Genius
What happens when you hold on too tightly to a

vision

and then it's not what you expected in the end.

Toxic

work experiences she had working in national security at the Pentagon and the moment she hit

rock bottom

.

The two things in all of our careers that we have to be mindful of: 1) Your responsibilities and 2) Your

core values

.

How to find out your "

zone of genius

" or core skill set and how to apply it to your career choices.

The gift that she has with writing speeches and why words are like medicine for her.

The 11 step road map she will take you through in 'You Turn' to help you gain clarity of what career is right for you.

Exploring the beauty in

self-love

and being kind to your

inner child

plus why the process takes time.

How her bad experience working in national security was a blessing because it led her on a journey of

self-discovery

and taught her a lot about the workforce.

Why you should never force your career as it's exhausting and not aligned with who you truly are anyway.
Power Quotes From The Show
Are You Holding Yourself Hostage?
"I can't tell you how many people have told me, 'I need to stay in this job so I have another year on my LinkedIn profile.' When we do something like this, we're holding ourselves hostage in versions of our life that don't work for us so that we can look like we are surviving and getting by. I get why people do that and sometimes we forget that living in and of itself is an achievement. You have to get out of bed, go to school, sometimes we don't feel well, you have to make money and put food on you table. It's an achievement just to exist; it requires a lot from us." - Ashley Stahl
Fear Of The Unknown & Misery
"This dynamics between fear of the unknown and our misery in our current situation are always at play in our lives, our career, and our decisions. The fear of the unknown will usually paralyze somebody but they won't launch in and override it until their misery in their current state is so much that they no longer care about the unknown because they're too miserable. So I help people figure out what they can do to lower that threshold so that they don't have to get to misery; they can start asking questions when they're lukewarm too many days in a row." - Ashley Stahl
Clarity Comes From Engagement
"If you don't really know yourself, you're just going to turn your career and life into this graveyard of trial and error. Sometimes there's some great things about that but I think the world makes way for people who do have clarity. It's not to say that we're always going to have clarity; we're always constantly in transition. That's who we are; we are transitioning. So, my biggest thing for anyone who really wants something, is for them to make the decision to go on the path and get that clarity because in order to get somewhere new, you need to do something new. Clarity comes from engagement; it's never just going to come from thought. That's like sitting in a rocking chair and hoping you're somewhere else by the end an hour later." - Ashley Stahl
Links From Today's Show
About Ashley Stahl
Ashley Stahl
is counter-terrorism professional turned career coach and author of the book You Turn: Get Unstuck, Discover Your Direction, Design Your Dream Career, and she's on a mission to help you step into a career you're excited about and aligned with. Through her two viral TEDx speeches, her online courses, her email list of 500,000 and her show, You Turn Podcast, she's been able to support clients in 31 countries in discovering their best career path, upgrading their confidence and landing more job offers. She maintains a monthly career column in Forbes, and her work has been also featured in outlets such as the Wall Street Journal, CBS, SELF, Washington Post, Chicago Tribune and more. For her FREE quiz to get clarity on your best career path options, visit AshleyStahl.com.
---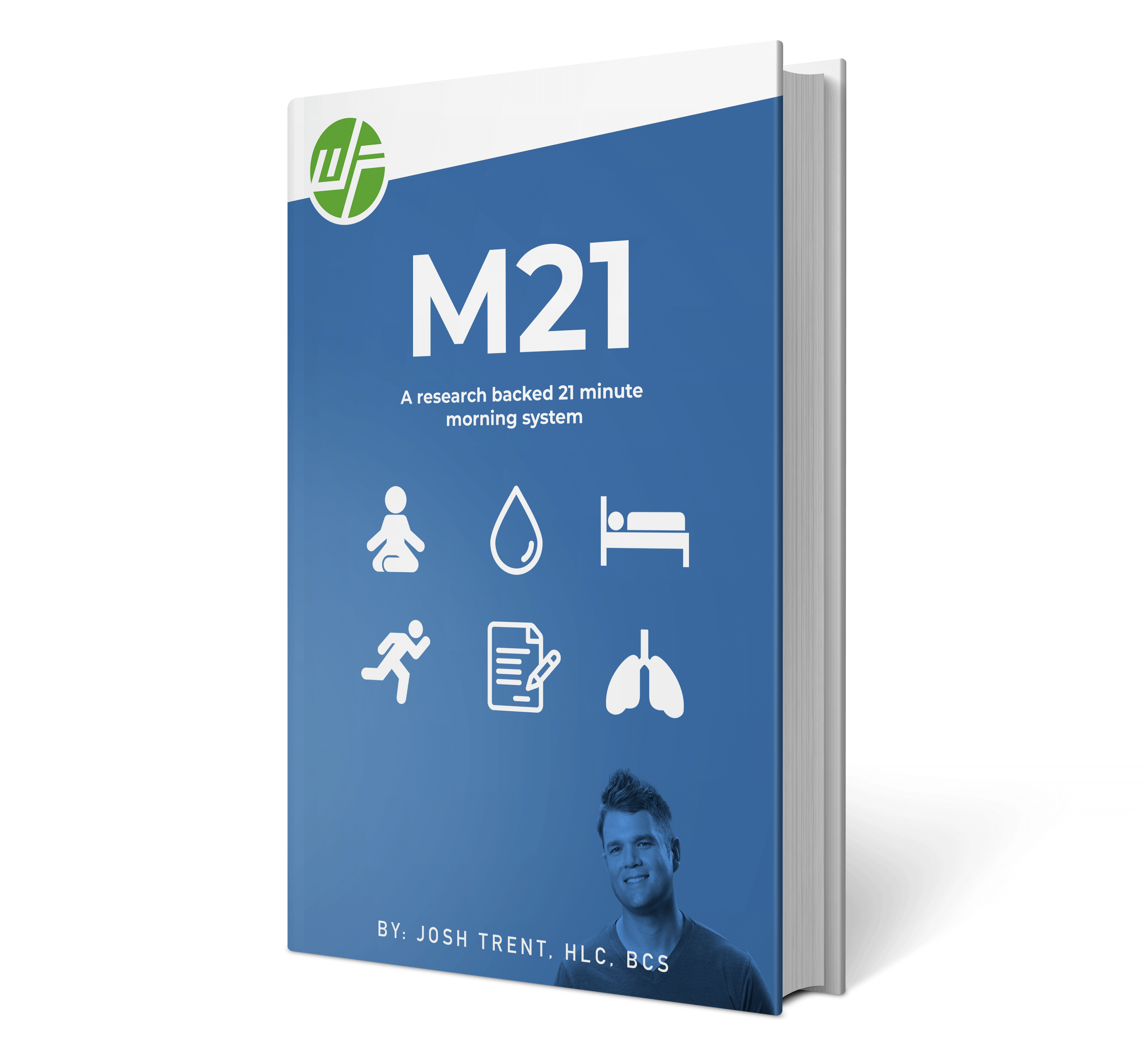 Build Immunity. Breathe Deeply.
A simple, powerful 21 minute morning system designed to give you more energy to let go of old weight and live life well.
Get Your Calm Mind + Immunity Building Guide
*6 science based morning practices guaranteed to give you more energy and less weight in 21 Minutes.
*7 day guided B.R.E.A.T.H.E breathwork included.
---